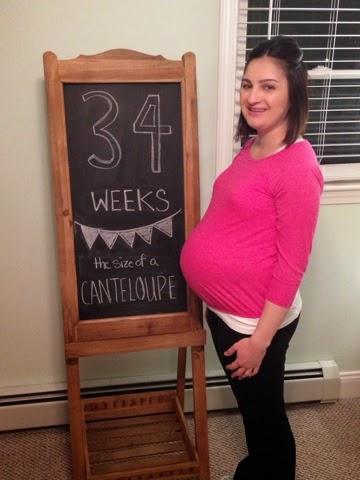 oh lordy I look tired! haha


How far along: 34 weeks
Gender: Girl
Weight gain: 28 lbs
Maternity clothes: well as of this week, almost nothing I own fits me so … I'm trying to just make do with what I have since we are almost there!
Stretch marks: No
Belly button in or out: Out
Sleep: I'm up twice a night to use the bathroom, and it still takes me a good amount of time to get comfy enough to fall asleep, but it's better than it was last week!
Best moment this week:
my favorite thing is feeling her get the hiccups. It reminds me there is actually a little person in there and not just an alien who likes to beat me up from the inside

Miss anything: being able to move faster, walking without waddling … oh and beer!
Movement: her movements are insane. We laid in bed the other night and watch my stomach for 20 minutes. Keith swears he saw her fist punching out of my stomach. I'm telling y'all … this kid wants OUT!
Cravings: nothing out of the norm, just trying to keep my sweets cravings in check!
Queasy or sick: knock on wood, I'm feeling pretty good!
Looking forward to: is it to soon to say "not being pregnant?" lol …. we are just so anxious to meet our little girl!