We made it to Hawaii! We have a very rainy day here today so I thought I would took a quick recap on our very LONG day of traveling with a 15 month old!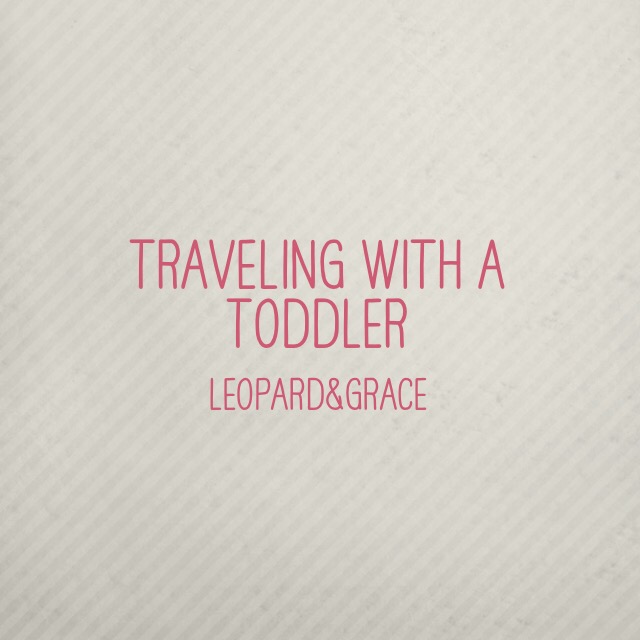 We were picked up by a car service at 3:45am, and we waited until 3:40 to wake her up. I put her to bed in the leggings and onesie she was going to wear traveling, so that I wouldn't have to wake her in the middle of the night and piss her off even more by changing her clothes

We allowed for plenty of time to get through security – and clearly the travel gods were on our side, because there was not a single person going through the security line at 4:30am. It was the three of us and about a dozen very helpful TSA agents

They helped us with the stroller and our four carry-on bags – one person tested our liquids, one checked our stroller, one checked me (since I was carrying her through the line).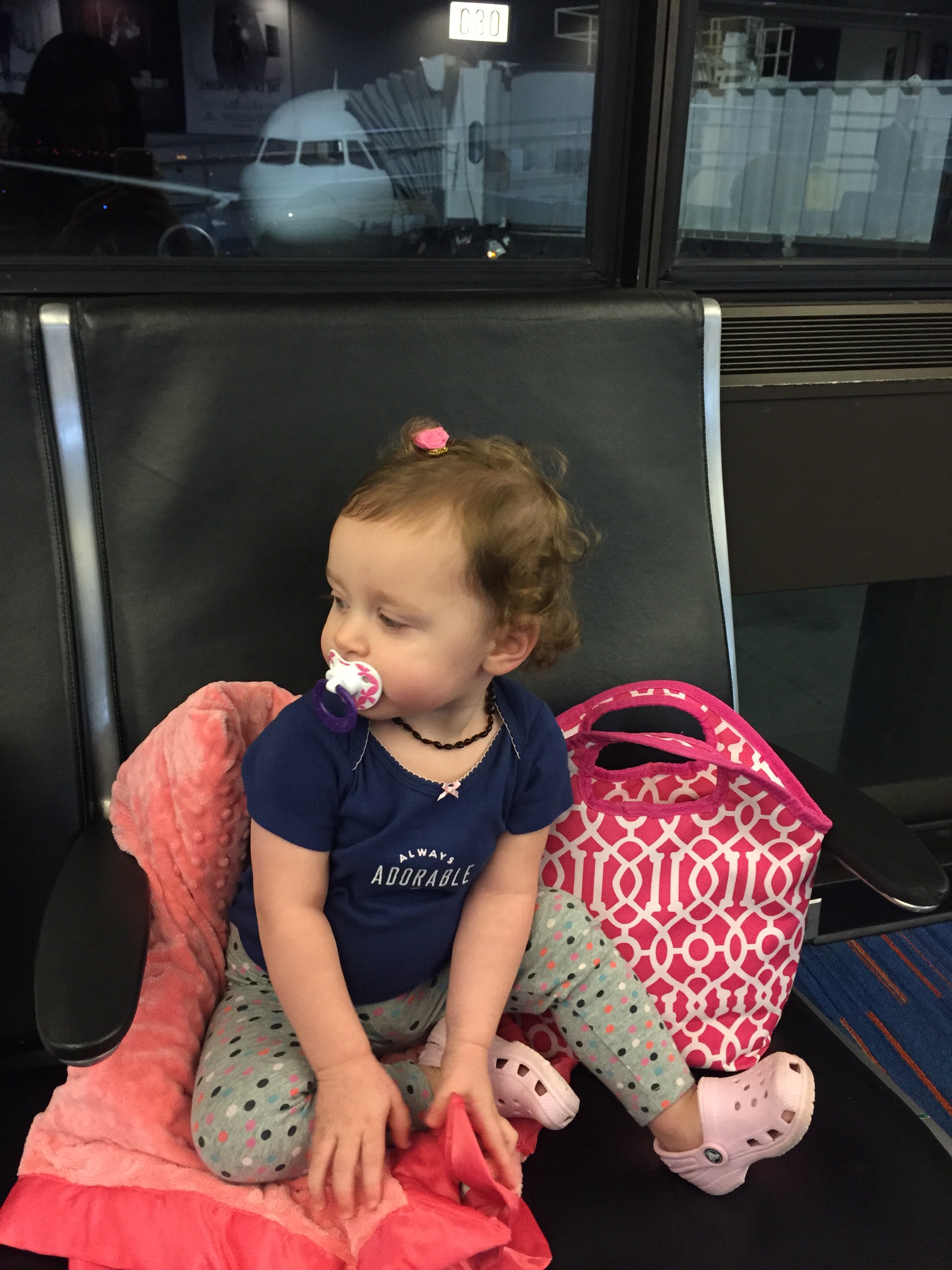 We had a 45 minute flight from Boston to JFK, a 3 hour layover and then a 10:40 flight from JFK to Honolulu.
The JetBlue terminal at JFK had a great play area for kids, and we took full advantage!
Here are my tips, in order of our day!
one} Pack more than you think you will need. We had a roll-on suitcase, a backpack, a diaper bag and a diaper tote bag. The suitcase had extras – diapers, change of clothes, toys. The backpack had all our electronics – laptop, kindle, ipad and chargers. Her diaper bag held all her toys and snacks and the tote diaper bag had pretty much everything else. I was able to bring a little cooler on board with extra milk, fresh fruit and pb&j sandwiches.
two} Pack lots of extra clothes – thankfully, neither Keith nor I needed to change our clothes, but Gracie went through all three clothing changes by the time we had landed in Honolulu. We got to the rental car place and she had peed through her very last outfit, so we put her in a onesie for the ride to our condo

three} Bring lots of entertainment- I bought her new toys, books and activities so everything was new and exciting to her. We had planned to have her watch her favorite show (Curious George) but apparently when I downloaded it to my Kindle, I did an "instant stream" which requires a wifi connection instead of downloading it to the device. *facepalm *epicfail *nowifioverthepacificocean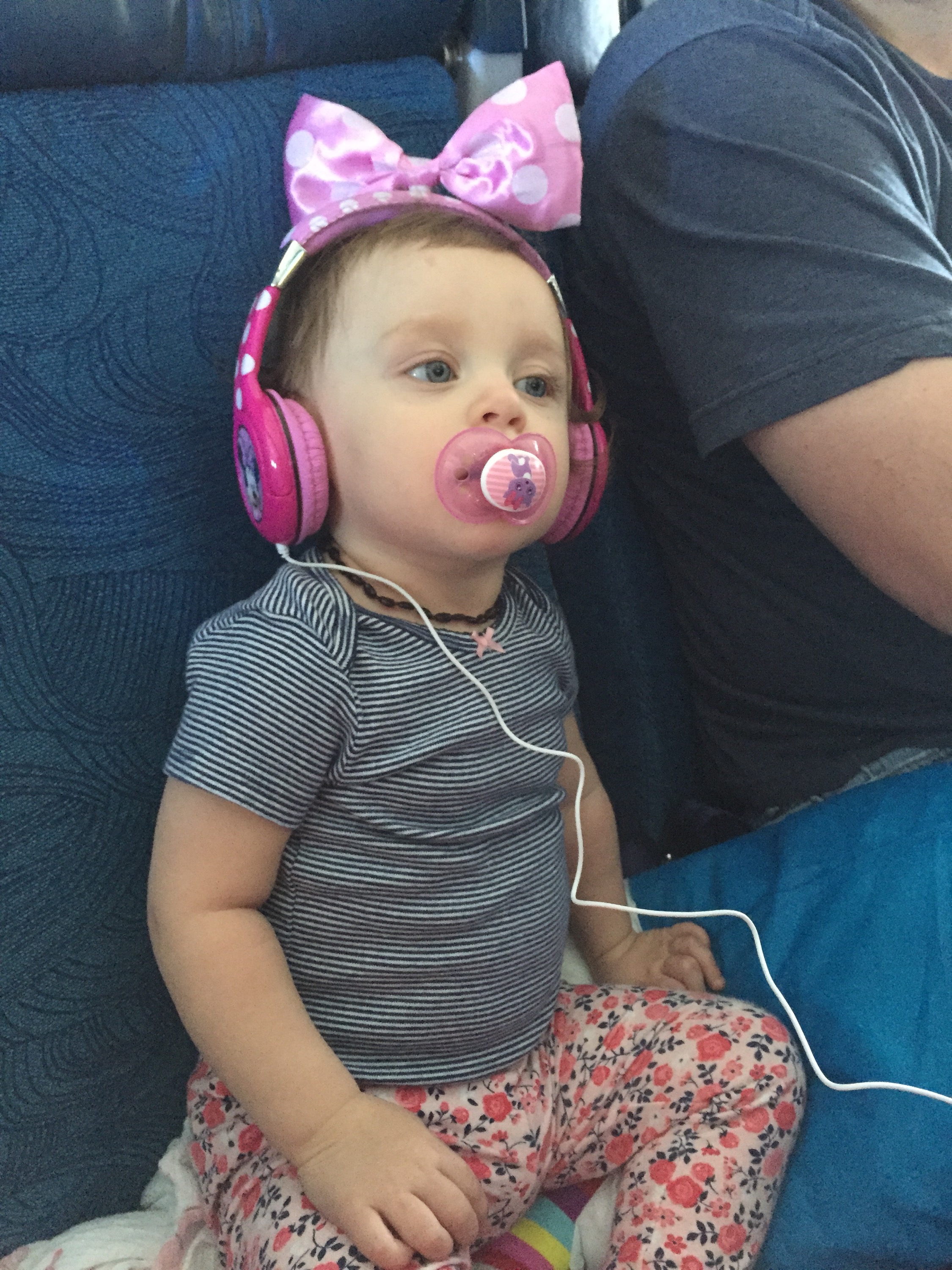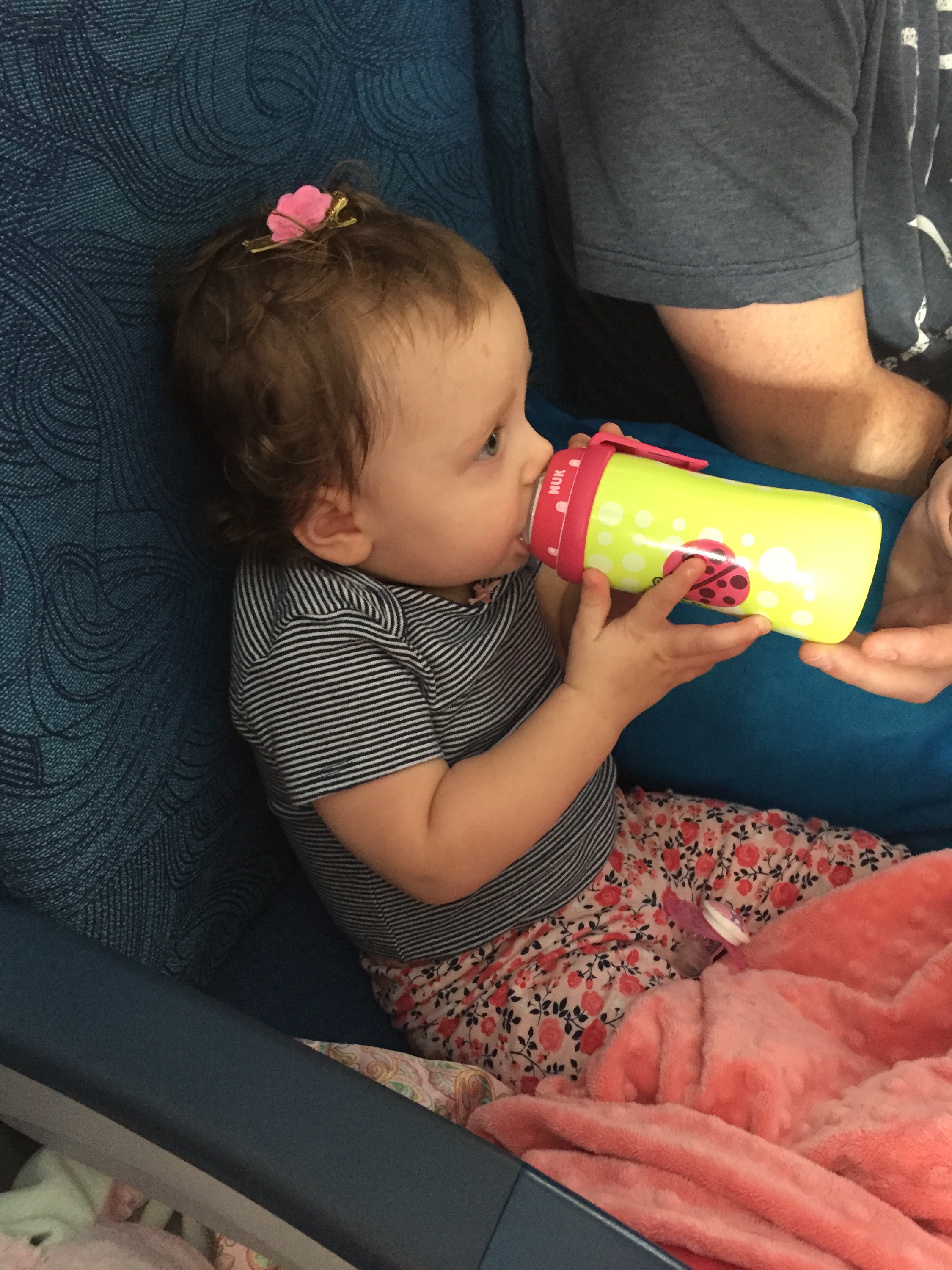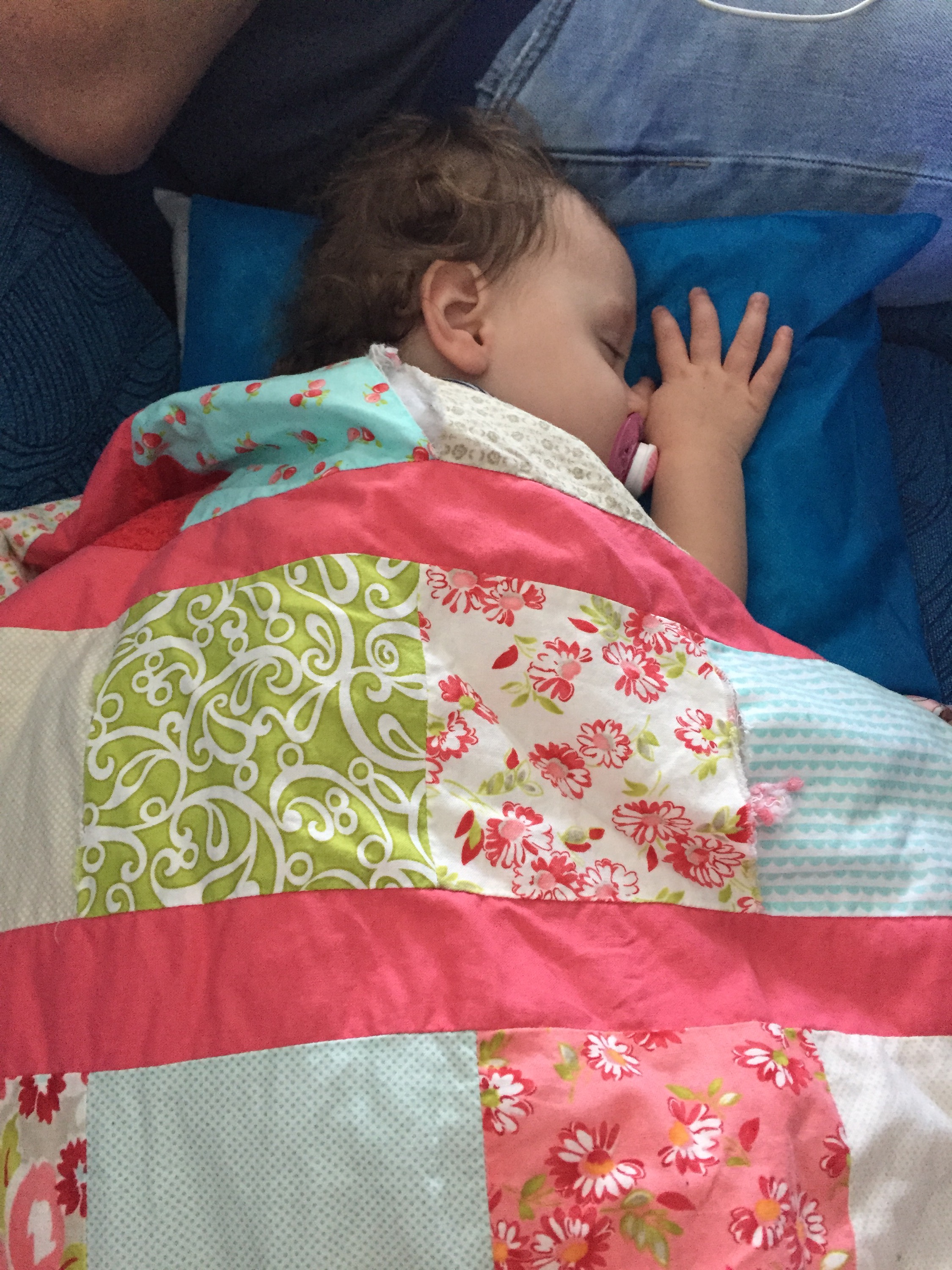 Somehow, we managed just fine! The last hour of the trip, she was busy peeling stickers and putting them all over her books and toys. Hey, whatever works right?!
four} Purchase the essentials – once we got our rental car, we stopped at the nearest grocery store and stocked up on essentials – milk, eggs, fruit, beer and wine

My family lives here so I was able to order diapers, wipes and other things for Gracie and have them shipped to my grandmother. This meant less things for me to pack and lug around!
five} Adjusting to the time change – the time difference from the east coast to Hawaii is six hours, which is a huge difference for a toddler. We are officially on day three and I think she has adjusted very well. We kept her up until dinner time on the first day, and put her to bed early. She was up at 1am, and then at 3am and would not go back to sleep. We let her nap at 9am and then she took an almost 3 hour nap at 2:30 on day two. She went to bed at 8pm and slept until 6am this morning! I'm grateful we will have a solid week of her being on this new time change before we have to go home and get adjusted all over again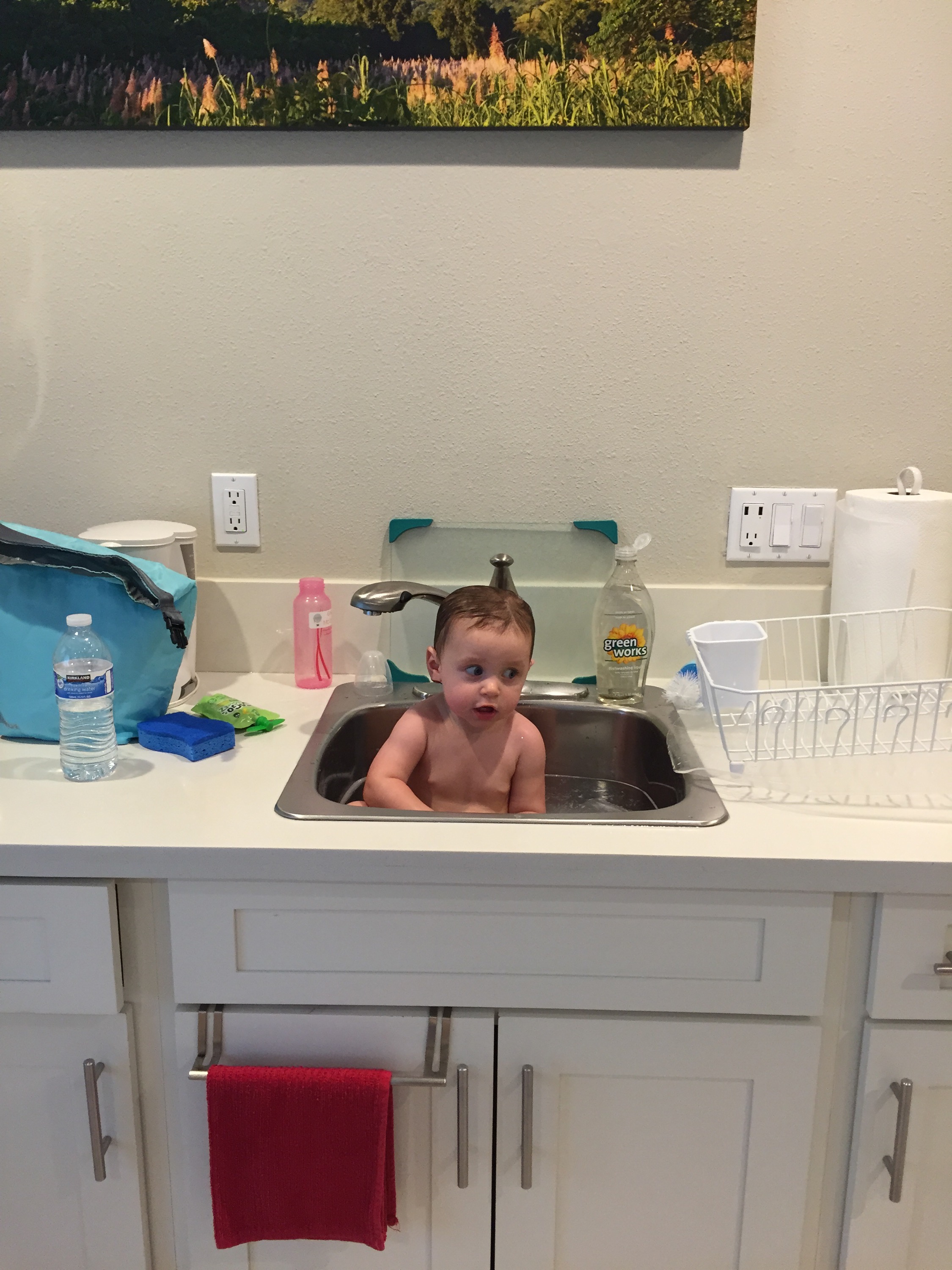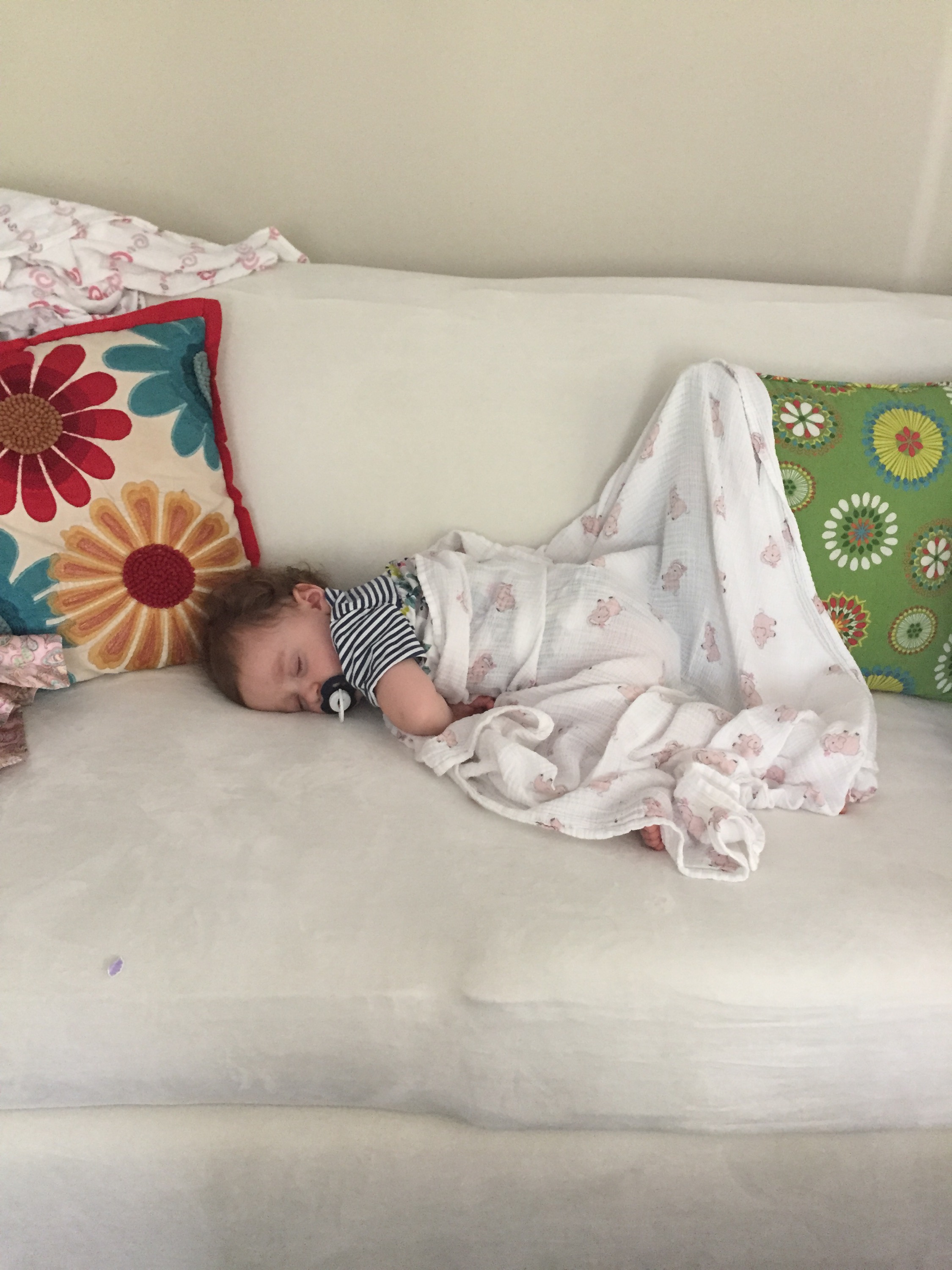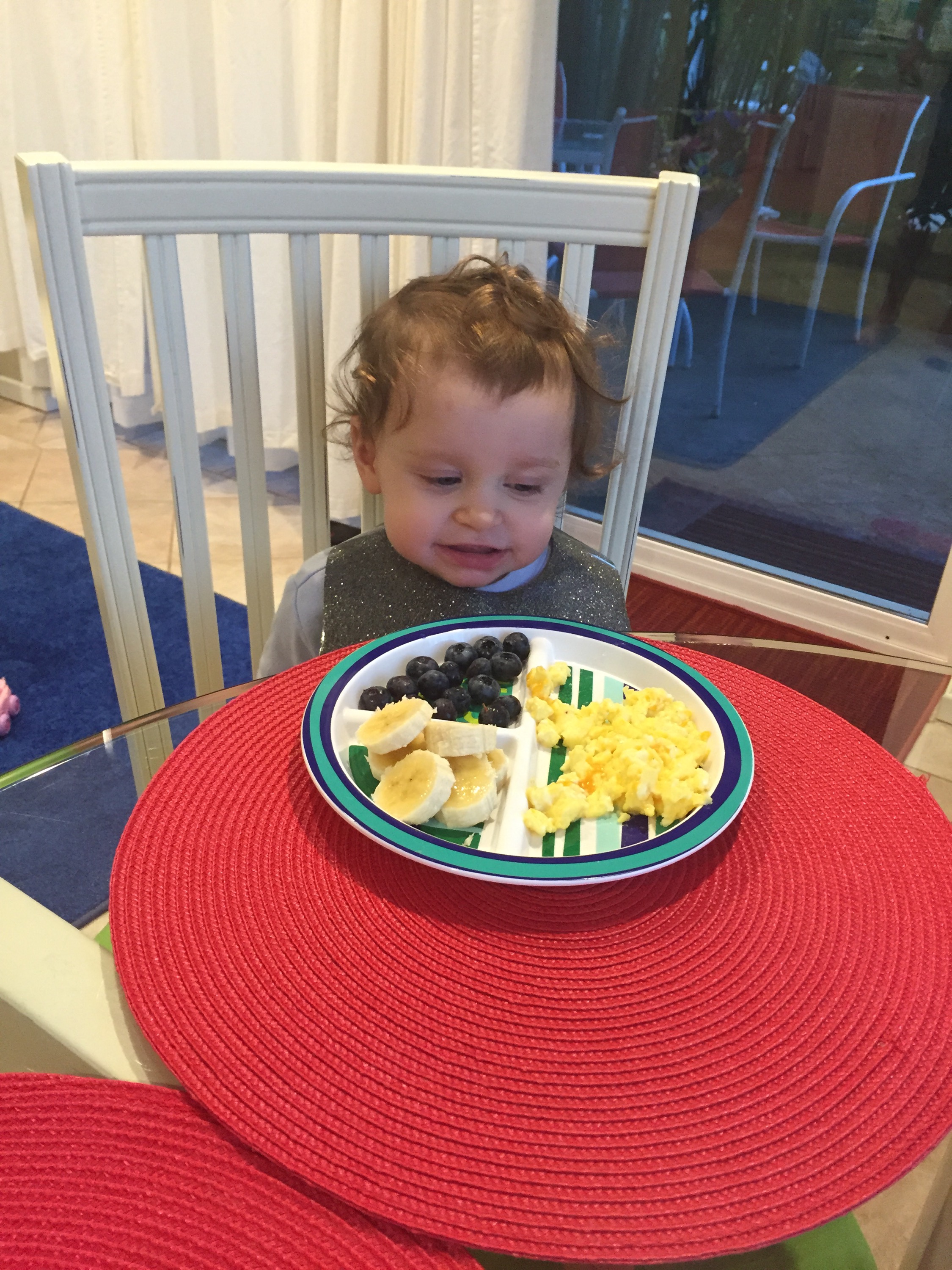 We chose to rent a very large SUV and a condo for our stay, and I think that was a better choice than staying in a hotel. We have a pool right outside our front door, which is perfect to lounge in when she is napping. We are a 3 minute walk to the beach and a 15 minute drive to downtown Honolulu.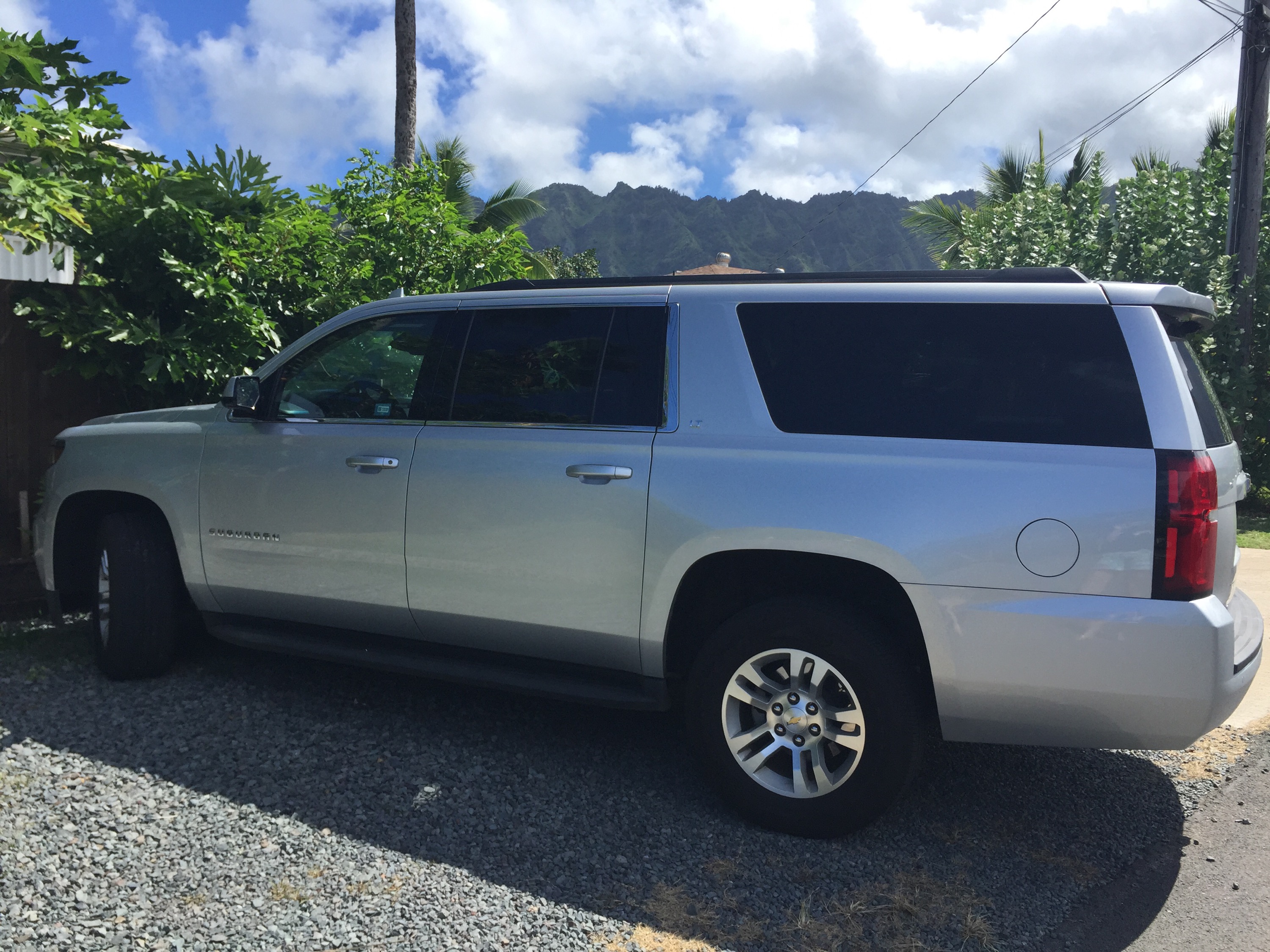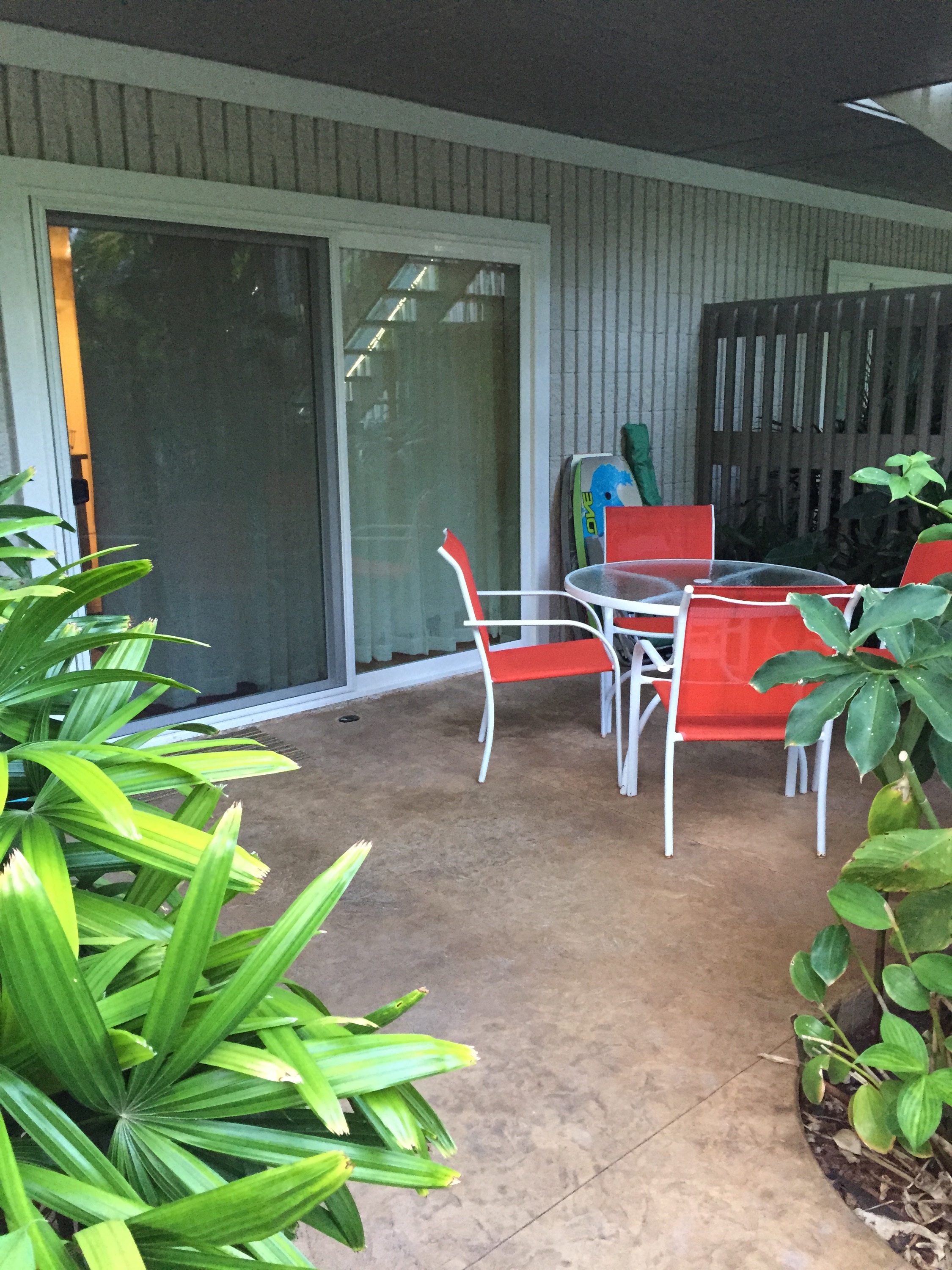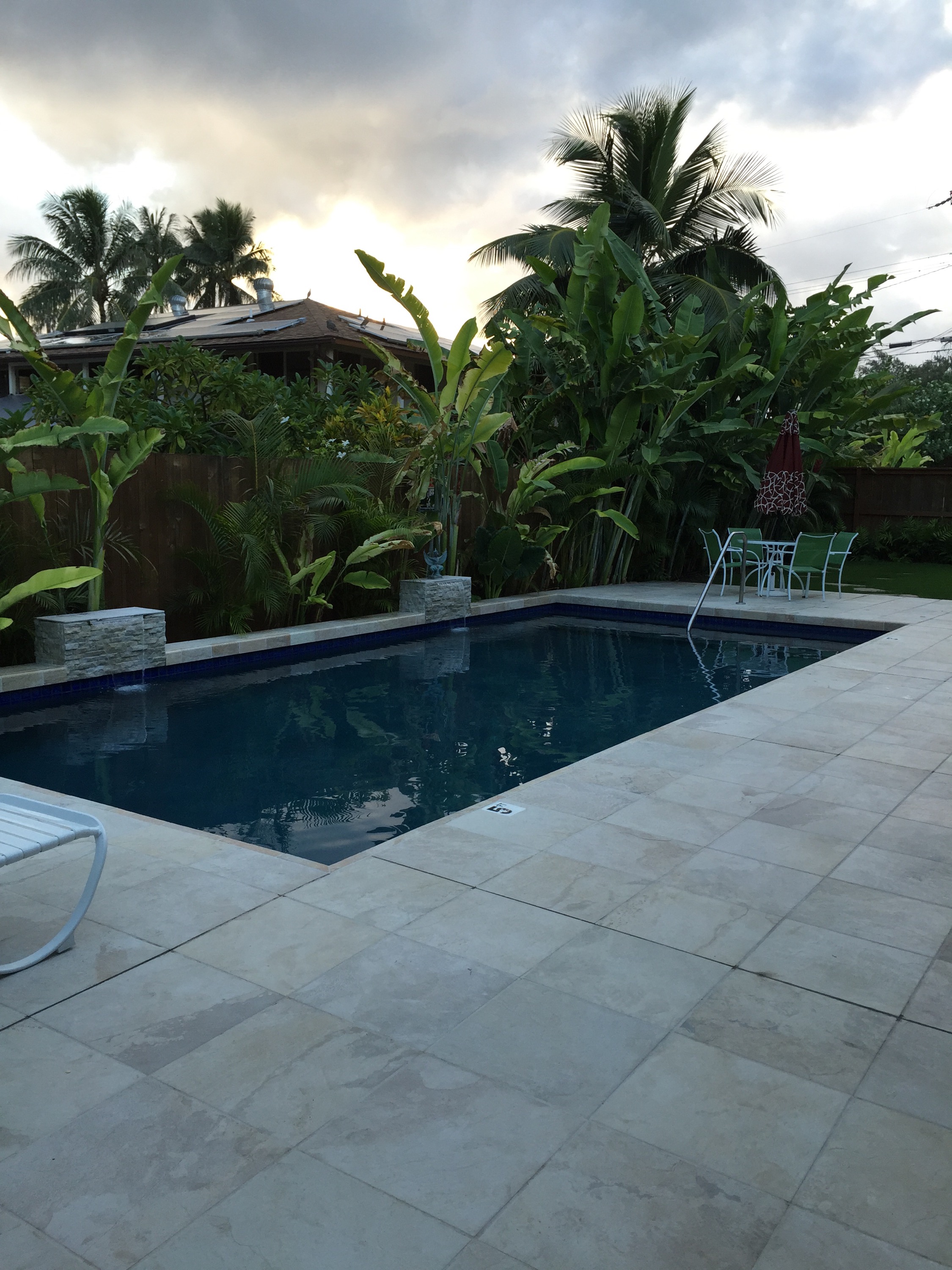 Our condo came with everything we could need for our stay – boogie boards, a cooler, beach chairs and towels, even beach toys for the Nugget. We have a mini kitchen, a patio and a beautiful view of the mountains.
Yes, getting here was long and tiring, and we had some tense and stressful moments getting here, but now that we are here – it was all so worth it!!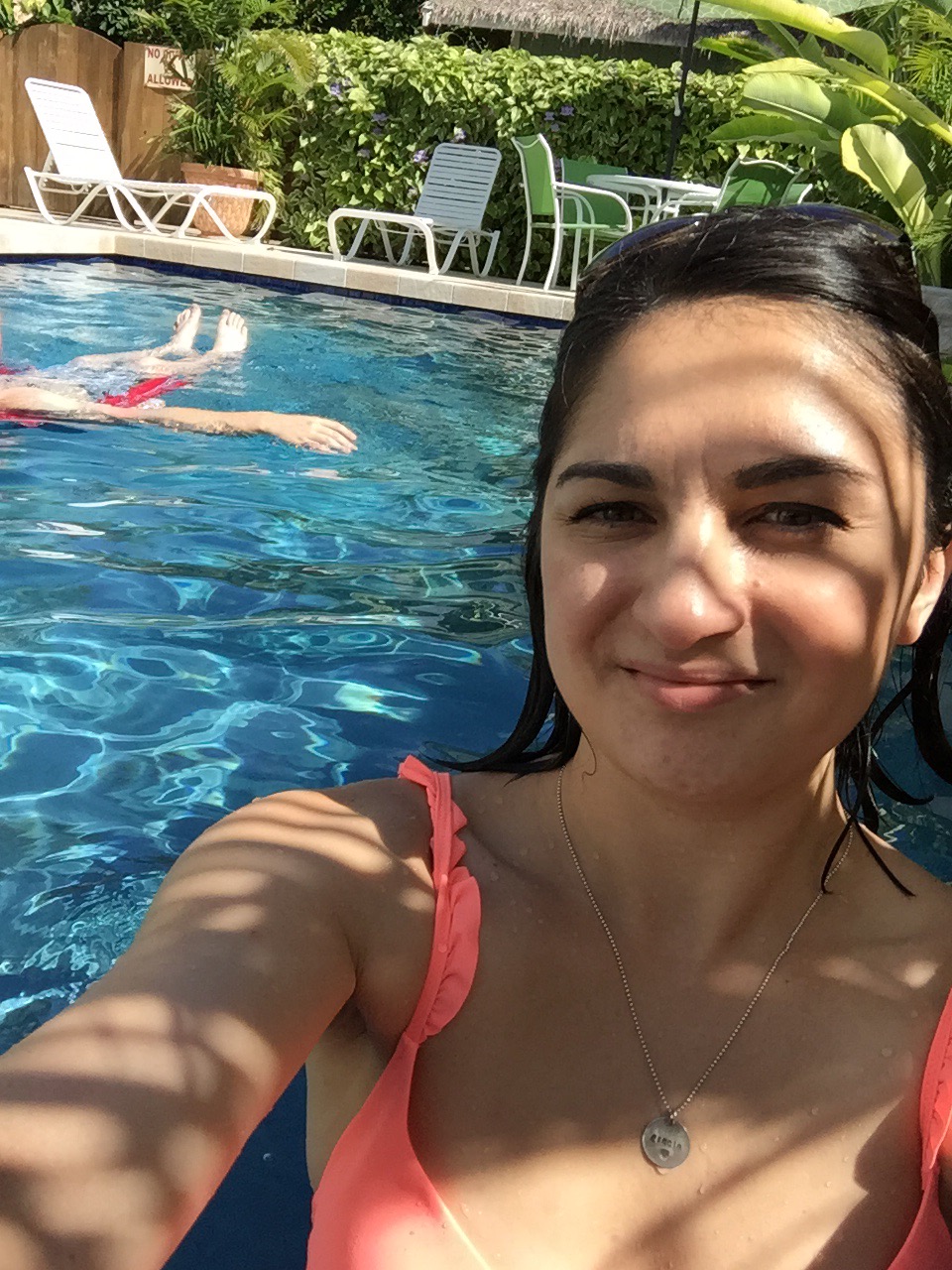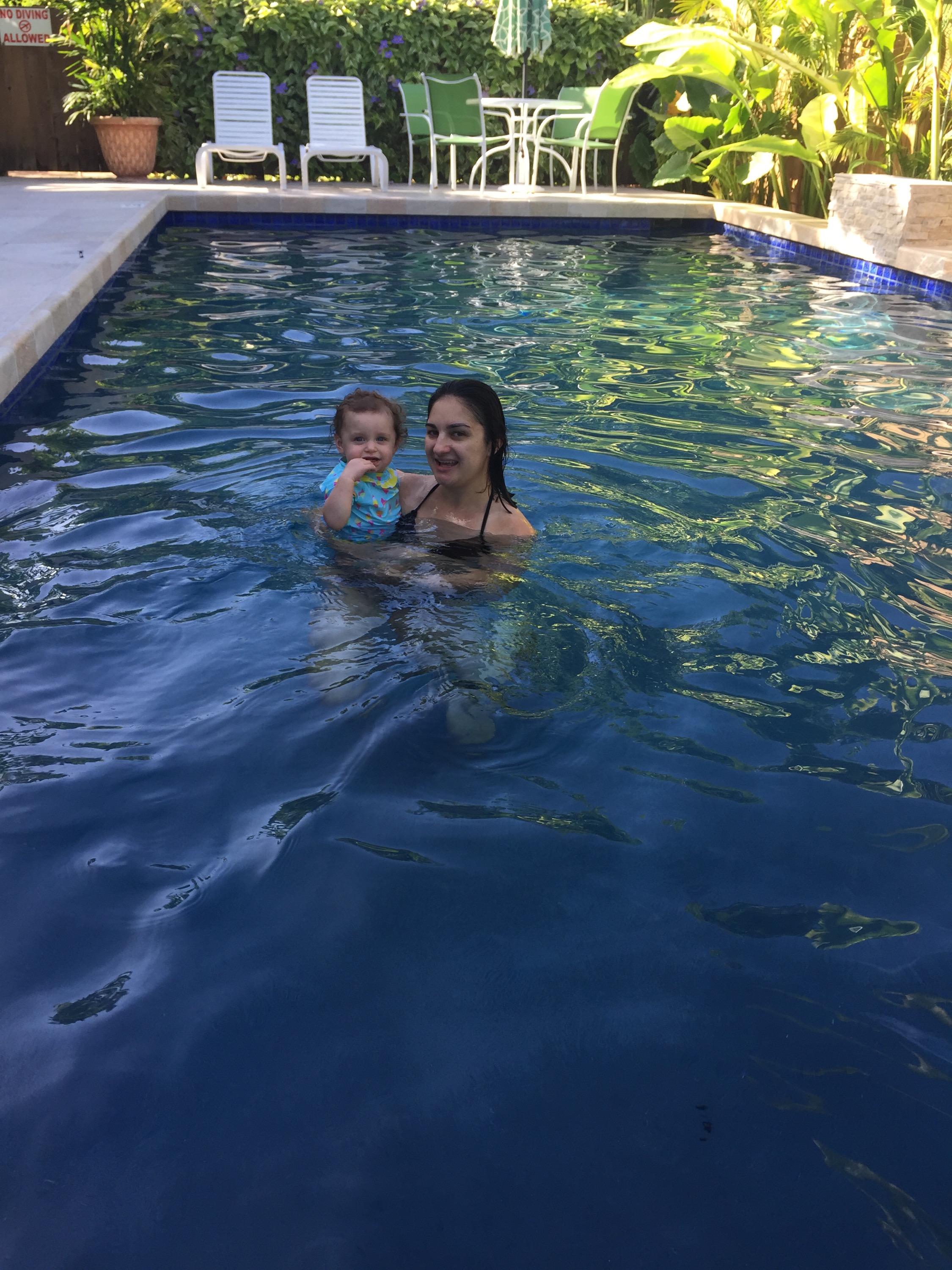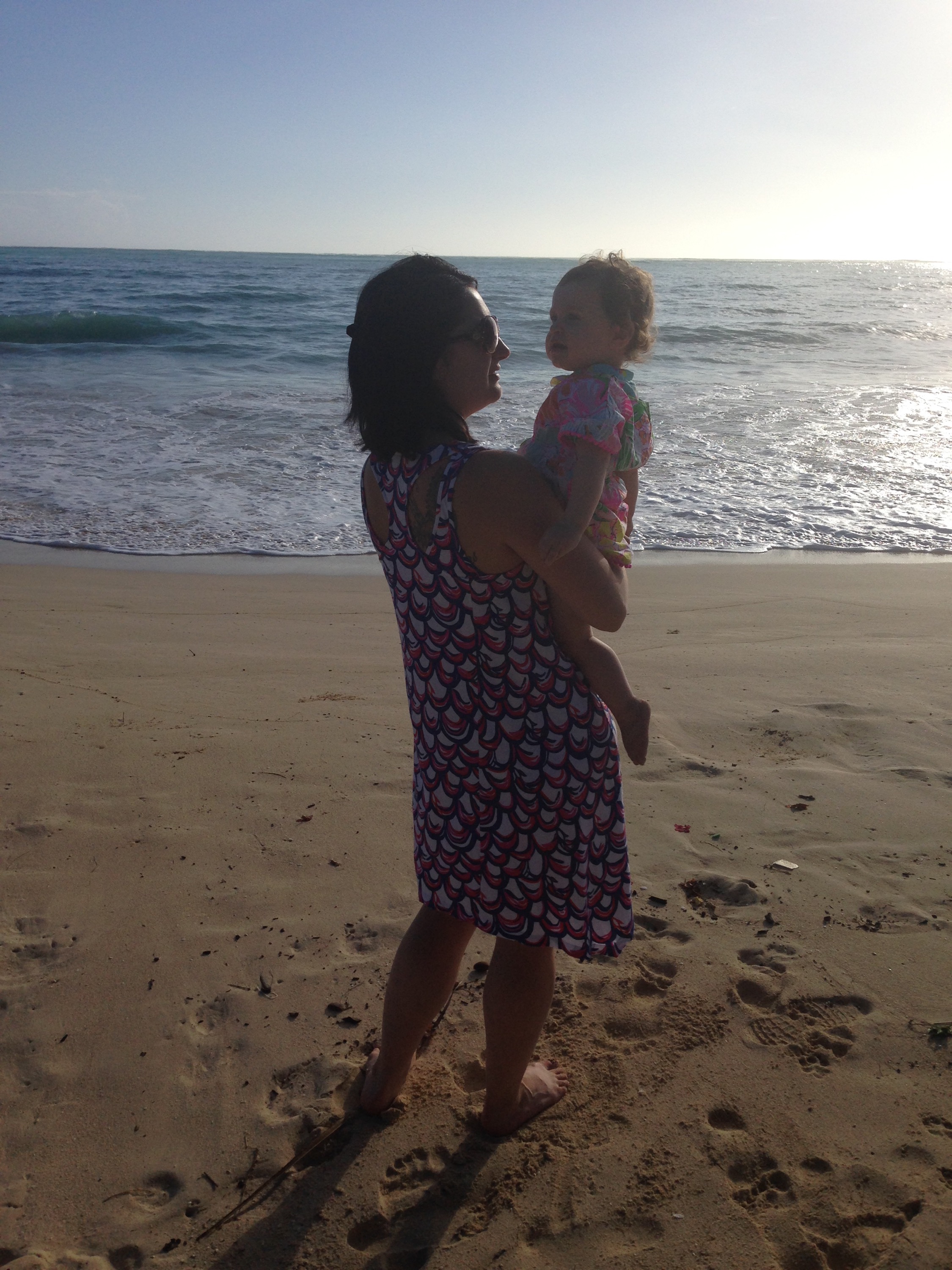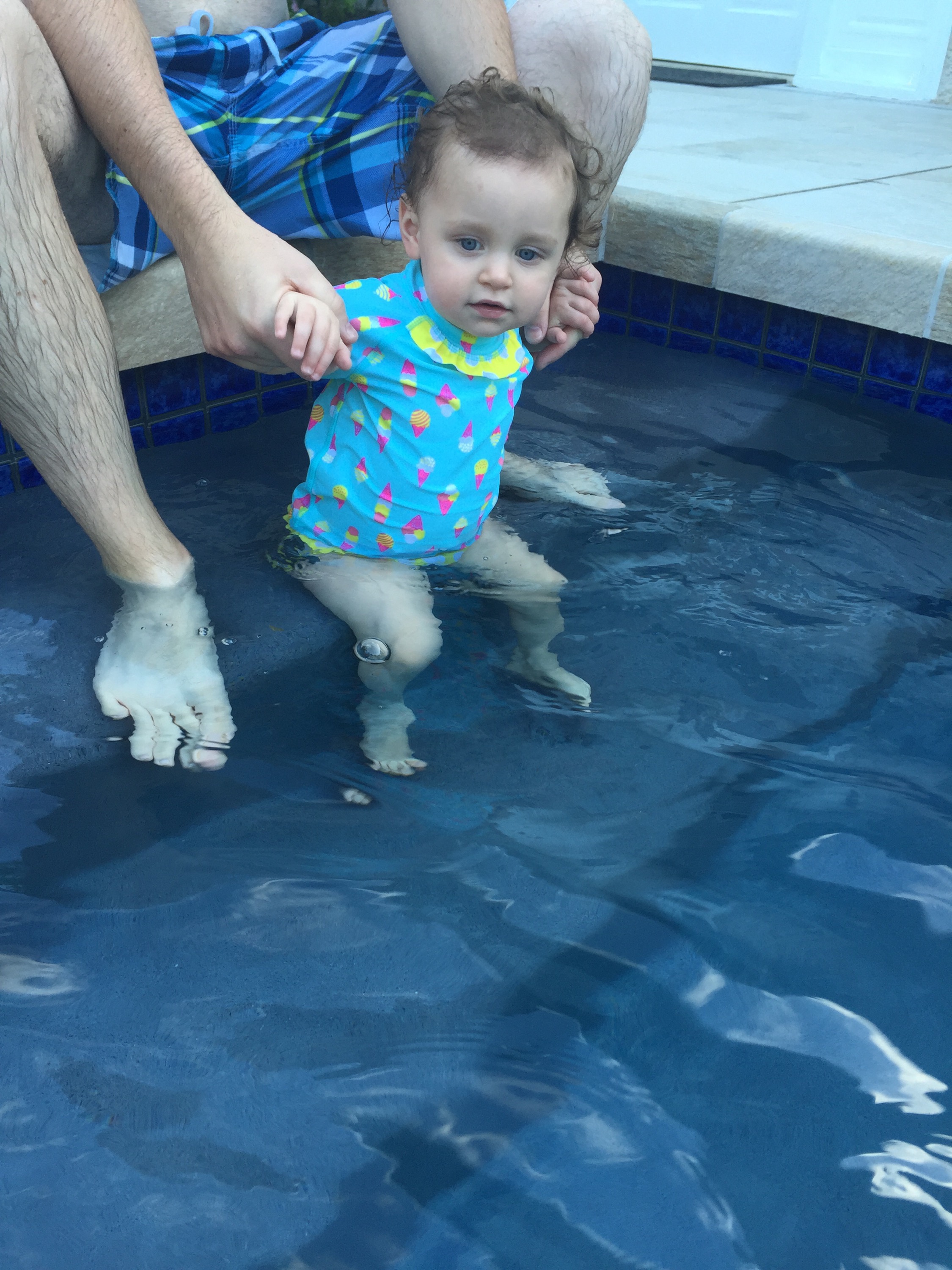 My final advice is to plan and expect for the worst, and just know that you will survive the trip-  the flight does eventually end and the memories you are creating are so worth it!!

Linking up with Thoughts for Thursday!